Pre-College Student Participation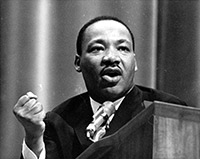 The Planning Committee has designed a conference for college and pre-college students to learn how to: become better leaders, expand their support network, and build inclusive communities. The sessions focus on leadership development and skill building, human / civil rights, nonviolence, social / economic justice, equal access, community service, civic engagement, and collective responsibility.
Generally, MSU-sponsored programs and activities may be photographed and videotaped for use in MSU promotional and educational materials. When this occurs, participants are not identified by name in the materials.