MLK Planning Committee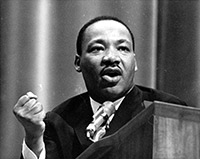 While reflecting on Dr. King's message of civil rights and social justice for all, through nonviolent means, MSU students, faculty, and staff join an all-university committee to plan and deliver powerful events to commemorate his legacy.
Every year, a large group of community members meet monthly between September and January to plan university-wide activities. Many of the activities are student-focused so a subcommittee consisting of registered student leaders meet weekly to plan them. For many years, a variety of programs have been offered that include concerts, student leadership conferences, marches, exhibits, and dinners. These events continue to be well attended and grow larger every year.
It is important to emphasize that Dr. King events are not designed just for individuals who may think alike or even look alike. Practicing one of MSU's core values — inclusion — these events are open to everyone, whether you are a student, faculty member, staff member, or a member of the broader community. The annual commemoration of Dr. King continues to be one of many ways for individuals and groups at MSU, to engage in respectful dialogues across our differences.
Students meet separately from the larger committee to plan activities that are student-focused. These activities include the Student Leadership Conference and the Commemorative March.
Other students that want to participate and support the efforts of those who are working on the programs are welcomed to join the meetings.
2021-2022 Planning Committee includes:
ADD YOUR EVENT: If your unit or department is planning an event for this year's celebration, please complete the form to be added to the compiled list of activities for this year. Details about events should be submitted as soon as possible in order to be included in event promotion. 
Graphics and Templates for use in promoting 2022 MLK Events
Template for flyers is available. Edit as you wish.