Calendar of Events
Courageous Leadership and an Unwavering Commitment to Civil Rights, Equity, and Social Justice
A variety of exciting and educational opportunities will be offered to the MSU Community in celebration of the legacy of Dr. King and historical events that took place in our nation and on our campus. 
MLK questions can be directed to Audrey Bentley at 517-353-4563.
Media contact: Henry Mochida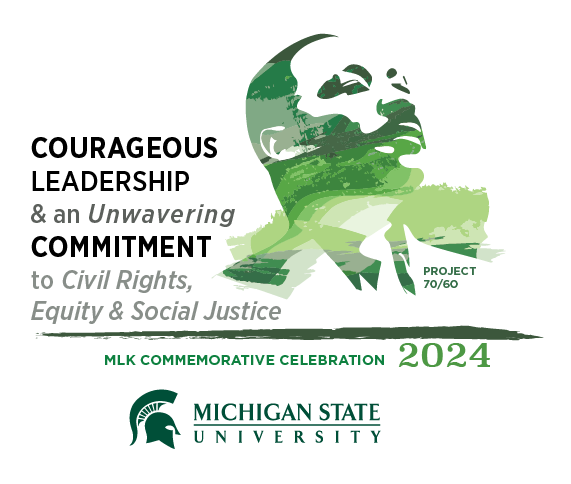 2024 Events will be available soon.
ADD YOUR EVENT: If your unit or department is planning an event for this year's celebration, please complete this form to be added to the compiled list of activities for this year. Details about events should be submitted as soon as possible in order to be included in event promotion. 
2023 Events are below
The events line up for the 2023 Martin Luther King Jr. Commemorative Celebration are below! 
Did you attend an event this year? Let us know about your experience via this survey.
Events Happening All Week
Tuesday, January 16
Friday, Jan. 13
Saturday, Jan. 14
Sunday, Jan. 15

 
Monday, Jan. 16
Tuesday, Jan. 17

 
Wednesday, Jan. 18

 
Thursday, Jan. 19

 
Friday, Jan. 20