MLK @ MSU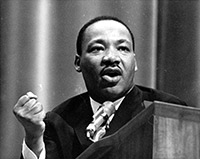 ON FEBRUARY 11, 1965, Dr. Martin Luther King, Jr. came to Michigan State University's Auditorium to launch the Student Tutorial Education Project (STEP). STEP evolved out of MSU students' desire to help others and gain educational experience. More than 4,000 people attended.
Today, you can join the conversation! Each year on the third Monday in January, Michigan State University faculty, students, and staff join with members of the Lansing community to celebrate the life and legacy of Dr. Martin Luther King Jr.
Martin Luther King Jr. was a Baptist minister and social activist who led the Civil Rights Movement in the United States from the mid-1950's until his death by assassination in 1968. Through his activism, he played a pivotal role in ending the legal segregation of African-American citizens in the South and other areas of the nation, as well as the creation of the Civil Rights Act of 1964 and the Voting Rights Act of 1965.
To reflect on Dr. King's message of civil rights and social justice for all through nonviolent means, the greater MSU community comes together to acknowledge Dr. King by planning events around campus and in the neighboring community. Every year MSU student leaders join the committee to plan activities that help shape this annual celebration.
These students come from the general student body and from established student groups and understand the importance of celebrating the life and carrying on the work of Dr. King. They understand the work they do on behalf of the greater MSU community contributes to the direct advancement of diversity and inclusion, enhancing the climate all across our community. Without the vision and strength of students, staff, faculty, and community leaders, this annual commemorative celebration would not be possible. The Office for Institutional Diversity and Inclusion thanks the planning committee and especially the student leaders for all of their hard work to make each year better than the last.