Vice President and Chief Diversity Officer's January Letter
January 11, 2022 - Jabbar R. Bennett, Ph.D.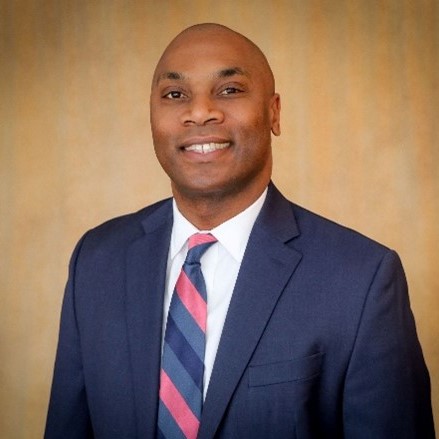 January is a time for renewal that is customarily filled with new year's resolutions. So, I extend best wishes for greater self-preservation, wellness, less fatigue and more connection!
I know that many were looking forward to joining Michigan State University's 42nd Annual Martin Luther King Jr. Celebration in-person as a time to be together in community to recognize the year's accomplishments and honor Dr. King's legacy. However, as the coronavirus pandemic continues to rage, the MLK Planning Committee made the difficult and necessary decision to shift the celebration online.
I want to thank the committee for all the hard work and commitment they have demonstrated in making this shift to a virtual format. And I hope that we can all recognize the collective achievements we've made this past year as we continue to move the needle and advance diversity, equity and inclusion into the future.
With that said, following the politically tumultuous year with high-profile court cases and tragic anniversaries, it is ever more important for our campus to gather. Thus, I invite you to join President Samuel L. Stanley Jr., M.D., myself and others for the MLK Community Conversation event on January 17. I am excited for Foundational Associate Professor in the Department of African American and African Studies Dr. Tamura Lomax's keynote address, "We Don't Need a Hero. We Need Accountable Community Workers."
As we consider the theme of this year's MLK celebration, "Where do we go from here," I think of the strategic imperative that President Stanley has set for us to achieve excellence in all we do. May these measures serve as our common resolution for the new year. In the coming weeks, I will provide an update on implementation planning efforts for recommendations that emerged from the institutional strategic plan and DEI Steering Committee Report. 
To bring in the new year, I am also excited to announce that we are changing the name of our office to recognize MSU's commitment to advancing DEI strategic priorities at the institutional level. The new name will be the Office for Institutional Diversity and Inclusion, or IDI, and will go into effect on January 17. 
Last but not least, my office recently welcomed Jade Richards to the team. Richards is the coordinator for MSU Dialogues and joins us from MSU Extension. We look forward to working with her and introducing her to you, our partners.
DEI happenings
November marked Native American Heritage Month. I was pleased that the Native American Institute's Reciprocal Research: A Guidebook to Centering Community in Partnerships with Indigenous Nations was highlighted in Diverse Issues in Higher Education. Also, MSU's recently launched Brand Studio featured a section on storytelling that calls for sensitivity around the university's land-grant identity, a pivotal shift.
Relatedly, I want to commend the recognition of National Native American Heritage Month created by the College of Social Science. In addition, our own Dr. Kevin Leonard, assistant director of diversity, equity and inclusion at the College of Veterinary Medicine, was featured in the National Diversity Council's video series sharing insight into Native American Heritage Month.
The Office of Cultural and Academic Transitions or OCAT hosted the 19th Annual Thanksgiving Unity Dinner serving over 560 meals to students and their families. I thank Juan Flores-Soto and his colleagues for coordinating this effort and creating community among members of our Spartan family, the majority of which were international students.
Furthermore, I applaud the work of Eduardo Olivo, associate director of diversity, equity and inclusion in Residence Education and Housing Services, and others who have worked to raise awareness around the complexities of the Thanksgiving tradition and turn challenges into educational opportunities and belonging.
Following MSU's First Generation-Forward Designation and during First-Generation Week (November 8-12), in a powerful series, the Residential College in the Arts and Humanities celebrated the accomplishments of people who were the first in their immediate families to attend college.
On November 30, International Studies and Programs and the Global DEI Task Force launched the webinar series addressing inclusive language and images. The task force was charged by Associate Provost and Dean for International Studies and Programs Dr. Steven Hanson and chaired by Assistant Dean for Administration and Director for Diversity, Equity and Inclusion Dr. Ashley Green. Please stay tuned for upcoming webinars and additional information regarding the global implications within DEI.
By the way, I am thrilled when we recognize the leadership advancement of our home-grown alumni, such as Dr. Green who was featured in OCAT's alum spotlight. She started her journey at MSU as a MAGIC program participant, setting her on a course for success.
December 3 is Day of Persons with Disabilities, on which I celebrated Tower Guard for their ongoing interest, engagement and support of student success. Each year, Tower Guard enlists first-year students to apply and serve with the Resource Center for Persons with Disabilities to scribe for exams and text materials and tutor those in need of assistance.
In other news, the Wharton Center for Performing Arts brought Belén Moyano, a cast member from the Broadway tour of Hadestown, for an educational event in early December. The musical has a dedicated focus on DEI and a mission to make sure everyone feels represented when they go to the theater.
And 2021 marked the first time that MSU students could light menorah candles indoors in some residence halls during Hanukkah. The lighting took place from November 28 to December 6 this academic year and demonstrates our commitment to acknowledge better the diverse faith, religious and spiritual practices of members of the Spartan community. 
Recognition and partnership 
MSU psychology professor Ann Marie Ryan received the Losey Award for Research Excellence, celebrating her outstanding contribution and dedication to research on diversity in the human resources profession.
Congratulations to Anna Maria Santiago, associate dean for research and graduate studies in the College of Social Science, who was awarded the Career Achievement Award by the Association for Community Organization and Social Action. Her research has focused on the influence of place on the health and well-being of Latinx and African American families and children.
In mainstream media, James Madison College's alum Dr. Sirrita Darby made the Forbes 2022 30 under 30 list. Dr. Darby is the co-founder of Detroit Heals, a nonprofit that helps youth cope with trauma. Also, Crain's Detroit  Business magazine named MSU's Dr. Mona Hanna-Attisha and Board of Trustees Chair Diana Byrum among 2021's 100 Most Influential Women.
The Young Black Men, Masculinities and Mental Health Project report at MSU was recently released. The project came to our campus in 2017 as part of a partnership with the Founding Director, Daphne C. Watkins, professor of social work at the University of Michigan. I want to recognize Assistant Director of the Office of Cultural and Academic Transitions Murray Edwards, Assistant Dean for MSU Student Success Initiatives and Director of Neighborhood Student Success Collaborative Dr. Genyne L. Royal, and Director of Human Resources, Residential and Hospitality Services Kelly High-McCord for their contributions on this project.
Dr. Lisa Cook, professor of economics in the College of Social Science and international relations in James Madison College, received the national Intellectual Property Owners Education Foundation award recognizing her research that examines the lack of representation of African American inventors on patents. Dr. Cook, a senior economist on the White House Council of Economic Advisers in the Obama administration, is part of a slate of three nominees for central bank board seats at the Federal Reserve.
We welcomed Alexandra Rivera as the recently appointed associate dean for diversity, inclusion and organizational development for MSU Libraries. Rivera joins us from the University of Michigan Library, where she served as the Senior Associate Librarian for Student Success and Community Engagement.
Also of note, in the College of Social Science, the Dean's Research Associate Program – established under former Dean Rachel Croson by Dr. Nwando Achebe – has been renewed to support the advancement of the third cohort of diverse scholars. Each cohort of postdoctoral scholars spends two years focusing on their research with reduced teaching loads and significant mentorship to advance faculty within the tenure system. 
It is crucial to highlight research findings that support inclusive excellence at MSU and beyond. Frontiers in Psychology featured The Graduate School's Steven D. Thomas who revealed that MSU's Alliances for Graduate Education and the Professoriate program or AGEP is vital with a 70% graduation rate and more than half of Ph.D. students deciding to pursue academic careers.
Finally, a timely study from the Institute for Public Policy and Social Research in the College of Social Science reviews the spread of misinformation around Critical Race Theory in Michigan K-12 schools.
With MLK Celebrations this month and Black History Month and Lunar New Year in February, there is much in store for the entire community. I am proud to be a member of such a diverse and inclusive campus where we can acknowledge and celebrate individual, collective, cultural and historical milestones that enrich our overall learning, living and working experiences!
Sincerely,

Jabbar R. Bennett, Ph.D. (he/him)
Vice President and Chief Diversity Officer