Transforming MSU Playwrighting Cohort creates space for student expression
March 1, 2022 - Henry Mochida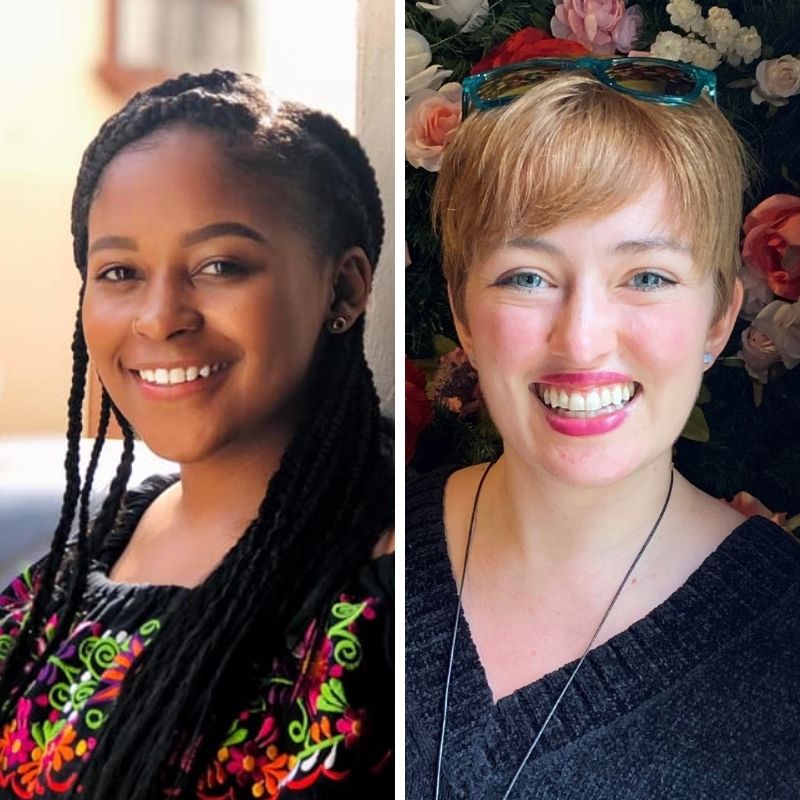 When Crystal Bernard, a senior at James Madison College studying social relations policy and international relations, learned about Michigan State University's Transforming MSU Playwrighting Cohort, she became immediately intrigued by the overlap of social justice and theatre.
"I find that relaying social justice information through arts and culture tend to be the most provocative, informative and engaging work," said Bernard. "I don't have any formal theatre experience, and yet, I was like, I could do this."
In her writings, Bernard developed a personal vision of justice. For her, joining the Transforming MSU Playwrighting Cohort would be an opportunity to build on that vision and her writing.
The student playwrighting cohort is an outgrowth of the Transforming Theatre Ensemble, which uses theatrical sketches to provide an interactive learning experience for community audiences at MSU and beyond. Performers range from students to faculty and staff and professional actors who perform on and off-campus in workshops at conferences. Lynn Lammers is the artistic coordinator of the program in the Office for Institutional Diversity and Inclusion.
When Lammers started in 2007, she would write the plays for various audiences on campus, creating short pieces for dialogue and learning in professional development workshops. She realized that the playwrights' lived experiences influence the writing and are reflected in the cadence of the dialogue, humor, dramatic structure; essentially, every aspect of the piece bears the marks of an author's social identity.
Concerned about limiting expression, Lammers sought to bring in student voices that needed a platform. "I realized I needed to create a space for students to share their experiences in their own ways," said Lammers.
The start of something new
In fall 2020, the Transforming MSU Playwrighting Cohort program was launched in close collaboration with the Department of Theatre to center student voices and create a space for authentic expression.
"At first, it was intimidating because it was a new experience," said Bernard. "But Lammers has been so helpful in drawing it out of me and giving me a framework to work with it turned out to be a smooth transition."
Brittany Brewer, a Ph.D. student in Curriculum Instruction and Teacher Education in the College of Education, another playwright in the program, primarily focuses her writing on young adult stories. As a doctoral student, her research interests include arts-based research, queer theory and pedagogies, collaborative learning and young adult narratives.
Through the playwright cohort program, she was excited to find a place that allowed her to live at the cross-section of her interests in education and community engagement through theatre.
"I finally found a place where all the different parts of my interest and self are more honored," said Brewer. "It's easy for people to become siloed in their discipline, and this allows me to be in other spaces."
Student playwrights focus on writing in the fall semester and have one-on-one meetings with Lammers. Then, before the public performances, she hosts small, invited readings in which the playwrights and responders engage in Liz Lerman's Critical Response Process as a means of giving and receiving feedback.
2021-22 Season
The six featured playwrights of the 2021-22 season are Justice Fowler, AJ Evans, Mel Dyk, C Wildmann, Crystal Bernard and Brittany Brewer. They cover a wide range of topics related to the student playwrights' identities and experiences at MSU, including themes around race, gender identity, trauma-informed teaching, isolation, and community care and explorations of how students experience learning environments. 
"Afrofuturism, queer fantasy and playing with genres in theatre help us stretch our imaginations to try to imagine what a fully inclusive MSU looks like," said Lammers.
Whether the playwrights put the audience into a dream sequence or state of limbo, theatre can spotlight a brief encounter and focus on the emotional impact. Theatre can also provide a sense of what it might be like to enter a world that feels completely different from the one we live in and center the comfort of LGBTQA+ people or people of color.
"As a Black woman and queer student on campus, I think that my version of liberation probably has a presence at MSU while being in the minority," said Bernard. "This is an opportunity to highlight my perspective on liberation, as well as channel my commitment to activism."
Creating a platform for underrepresented perspectives
According to Lammers, theatre programs tend to be predominantly white establishments that must come to terms with equity challenges. The Transforming MSU Playwrighting Cohort is an investment in creating a platform for underrepresented perspectives to come to fruition.
"They are envisioning and summoning into existence spaces for hope, spaces to wonder about and work towards," said Lammers.
Bernard incorporates Afrofuturism themes within her play because she doesn't want to exploit the trauma of African or African American experiences on campus. She hopes her piece will allow Black people to create alternative outcomes and solutions and go beyond merely encouraging conversation about diversity and inclusion.
"We need to create more platforms that aid in developing Black creativity in majority-white spaces," said Bernard. "That will be happening through witnessing our plays."
Brewer is working on a piece that will encourage conversations around trauma-informed teaching, a practice of understanding the impacts of trauma and creating a classroom culture that is more responsive to the needs of students.
"Previously, I didn't think I could bring trauma-informed teaching and playwriting together. But now, I think I have to," said Brewer. 
Final performances will take place on April 8, 15, and 22, 5-6:30 p.m. ET via Zoom, and are open to the campus community and the public. If students are curious about theatre and social justice, they are invited to consider applying to be part of the next cohort.