Vice President and Chief Diversity Officer's November Letter
November 2, 2021 - Jabbar R. Bennett, Ph.D.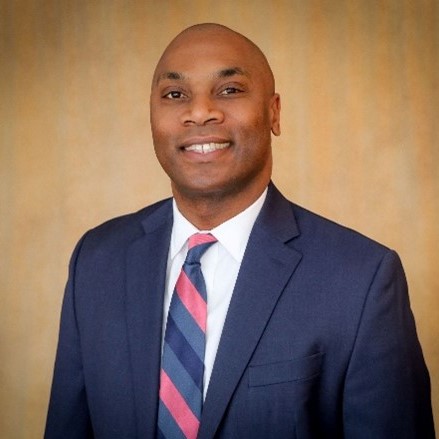 We are over halfway through the fall semester, my first autumn at Michigan State University. I have been enjoying the fall colors and scenery on this picturesque campus. Transformation is in the air as our in-person cohorts are learning and living together. I would like to recognize and applaud the efforts of staff in Dining, Live On or Residence Education Housing Services, Residence and Hospitality Services, Neighborhood Student Success Collaborative, MOSAIC: Multicultural Unity Center, all the residential colleges on campus, and Gender Inclusive Housing for their efforts to build more inclusive communities and to provide essential services to our students and campus during unprecedented times.
Our campus has a "DEI buzz" that I attribute to several initiatives coming to fruition. First, the Multicultural Center's feasibility study overseen by Vennie Gore, vice president of the newly formed Division of Student Life and Engagement, is complete. The project now moves on to the planning phase which the Board of Trustees approved in September.
Congratulations to Tina Alonzo who recently joined the Office of the Executive Vice President for Administration as the diversity, equity and inclusion administrator. Alonzo will report to Melissa Woo executive vice president for administration, and Dan Bollman, vice president for strategic infrastructure planning and facilities.
Additionally, we are into our second year of DEI Foundations, the diversity, equity and inclusion online educational module required of all Spartans. Thanks to Dr. Patti Stewart and her team in the Office for Inclsuion and Intercultural Initiatives for leading these efforts following a successful first year where we achieved an overall 98% completion rate for students and employees.
In late September, I had the pleasure of joining President Samuel L. Stanley Jr., M.D., and the DEI Steering Committee Co-Chairs Dr. Wanda Lipscomb and Mr. Luis Alonzo Garcia for a DEI Plan Webcast where we addressed questions from the campus community. We are currently reviewing the findings and will partner with major academic and administrative units within the next year to develop action plans with metrics and systems for accountability.
Finally, the Provost's communications team, through partnership with various indviduals and units on campus, and under the direction of Dr. Terrence L. Frazier in my office, has enhanced MSU's undocumented website as a resource for students and parents when navigating campus policies and support services.
DEI happenings
In other news, Sep.15  – October 15 marked National Hispanic Heritage Month. WKAR celebrated the month with television, radio and online specials and premieres. In addition, 2021-22 Homecoming Court member Brenda Pilar utilized her platform to share her story of 'living in the shadows' as an undocumented Mexican student.
I enjoyed reading about incoming first-year student Luz Vazquez Hernandez's powerful story. I had the pleasure of meeting Luz earlier this fall at the College Assistance Migrant Program (CAMP) welcome event for students who come from families with migrant or seasonal farm work backgrounds.
I am thrilled to witness how our entrepreneurial and business-minded underrepresented students break barriers at MSU and in the East Lansing community. Kimberly Rodriguez, a first-time MBA student in the Broad College of Business, advocates for greater representation among first-generation graduate students. Onylah Taggart, Communication Arts and Sciences undergraduate student, frustrated by a lack of shops for Black women in East Lansing and unreliable online retailers, recently opened the doors to DBN Boutique.
October featured Special Collections LGBTQ+ Librarian Elisa Landaverde's curated selection of queer zines for The Gender and Sexuality Campus Center's National Coming Out Day event. International Pronouns Day also falls in October, and soon we will share the findings from our name and pronoun usage work group that will inform and shape ways in which names and pronouns can be captured and utilized consistently across various university systems and processes.
October is also National Disability Employment Awareness Month. MSU received a $15.8M grant from the US Department of Education to create new STEM career pathways for individuals with disabilities, especially those from underrepresented racial and ethnic groups. Congratulations to Principal Investigator Dr. Connie Sung, an associate professor and director of Rehabilitation Counseling at MSU. Also, I want to highlight the vital research of Professor J. Scott Yaruss and Assistant Professor Bridget Walsh, who are helping us to understand better and reduce the stigma about people who stutter.
Additional recognition
In September, the Henry Ford Health System and MSU partnership unveiled their brand with emphasis on embedding justice, diversity, equity and inclusion in the health sciences.
The College of Veterinary Medicine has been recognized for a second time with the 2021 Higher Education Excellence in Diversity or HEED award by INSIGHT Into Diversity Health Professions magazine. The college was also recently awarded a $10K grant by animal nutrition company Purina to support diversifying the field of veterinary professionals. I commend these achievements and the leadership of Dean Dr. Birgit Puschner; Associate Dean of Admissions, Student Life and Inclusivity Dr. Hilda Mejia Abreu; and Assistant Director of Diversity, Equity and Inclusion Dr. Kevin Leonard.
In September, it was announced that two Spartan faculty in Engineering, Dr. Michele Grimm and Dr. Tammy Reid Bush, earned national recognition over the summer for their dedicated support of diversity and inclusion from the American Society for Mechanical Engineers. The award is helping to increase the visibility of female engineers.
National Science Foundation's Faculty Early Career Development Program awarded MSU Assistant Professor Dr. Shanelle N. Foster in the Department of Electrical and Computer Engineering a grant supporting her research using 3D printing to design electric motors. Foster seeks to break down barriers that cause gender and racial disparity in engineering and support the next generation of engineers.
Equally laudable are achievements in the arts, and I want to take the time to spotlight the Critical Race Studies Artist-in-Residence Program in the College of Arts and Letters. Now in its fifth year, the program has brought two dynamic artists/professors to campus, Dan Paz from the University of Washington and Elka Stevens from Howard University.
DEI events abound on campus and are found in many areas, including the College of Music, which held the Lift Every Voice concert on October 25 featuring underrepresented composers in a live performance to shed light on their historically under-recognized contributions to the field. In addition, the Wharton Center recently featured Ballett Hispánico, America's foremost Latin dance company and largest Latinx cultural organization in the US.
On October 8, I had the privilege to welcome the Serling Institute's Symposium on Antisemitism. If you haven't had the opportunity, I invite you to watch the recorded panel 1 and panel 2 discussions available for viewing and to learn about issues past and present, and the current climate for students and employees on university campuses. I was also a guest at MSU's Chicago alumni engagement event, where I enjoyed a live conversation with WKAR MSUToday host Russ White.
In September, Captain and DEI leader Florene McGlothian-Taylor in the Department of Police and Public Safety (DPPS) was featured as a speaker in a US Department of Justice webinar on "Hate Crimes Prevention and Response Resources for Campuses." As many of our efforts turned toward campus safety and awareness around costume cultural appropriation during Halloween and beyond, I extend my gratitude to MSUDPPS for working extended hours to keep our community safe over the game-day weekend with our Michigan rivals. Go Green!
Relatedly, I was pleased to meet and hear from students during the Inclusive Campus Initiative community forum on public safety on September 13.
On the horizon
With electricity in the air, I am excited for what the months ahead bring to campus. I look forward to watching the MSU film American Exile, made by Professors of Practice John Valadez and Carleen Hsu in the School of Journalism in Communication Arts and Sciences. The film marks the first time in MSU's history that a documentary made by Spartans will be broadcast on primetime television nationally on PBS.
The documentary is about two Latino veteran brothers, who in their 70's face the prospect of deportation and embark on a mission to stop veteran expulsions. I hope you will consider joining the free and public WKAR special screening in person or virtually to commemorate Veterans Day on November 11 at 7:00 p.m. ET to deepen awareness of the complexities facing veterans.
I would be remiss not to mention our pride in the Student Veterans Resource Center, which has recently earned MSU the top rank of 'Gold Status' from the Michigan Veterans Affairs Agency for the sixth consecutive year.
Last but not least, November is Native American Heritage Month, and my office is a sponsor of the 2021 National Native American Summit that takes place on November 16. This year's theme is around "standing together and taking action." So I hope that you will join us in solidarity to learn about how MSU can recognize and support American Indian and Indigenous people and initiatives in the near future.
Sincerely,

Jabbar R. Bennett, Ph.D. (he/him)
Vice President and Chief Diversity Officer