Anti-Racist Path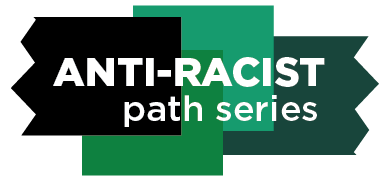 "As we mourn and seek justice for the murders of George Floyd, Ahmaud Arbery, Breonna Taylor, Nina Pop and Tony McDade (to name but a few), many black people such as myself are wondering: what will happen when the news cycle is over, the social justice memes are no longer posted, and the declarations for inclusivity, diversity and "doing the work" have died down? What happens when white people, momentarily awoken from the comfortable slumber of white privilege by this moment of unignorable protest, go back to sleep? How do we actually create an anti-racist world and rid ourselves of this sickness and system of white supremacy, when the people who benefit from it are not showing up to do the work?" 
-Layla F. Saad, Do the work: an anti-racist reading list 
Anti-Racist Path: Series for dialogue, skill-building, and action
Information about Anti Racist Path Series offerings for fall 2022 coming soon. Please contact Lynn Lammers with any questions or concerns. 
This series invites you to commit or re-commit yourself to anti-racism. We will notice and name racism and envision what dismantling white supremacy looks like for each of us. As we begin this work, we'll emphasize building emotional resilience and honoring the myriad of emotions that arise when we do the hard work of challenging white supremacy. Affinity space may be provided at certain points in the process. 
All sessions will be held over Zoom. 
There will be a limit of 40 participants. 
We will keep a waitlist.
Throughout this series, participants will:
Examine social identities with respect to power and privilege
Identify and express processes of racial identity development
Develop skills to recognize and navigate a full range of human emotions related to justice work
Analyze the destructiveness and persistence of whiteness and white supremacy in individual, interpersonal, systemic, and cultural environments
Engage in a community of co-learners to build capacity and support for continued action
Series facilitators: TBD
Spring 2022 Anti-Racist Path Series Timeline:
Orientation: Wednesday, March 2, 2022, 2-4pm
Asynchronous week (MSU spring break): Materials provided, engage at your own pace.
Session 1: Wednesday, March 16, 2022, 2-4pm 
Session 2: Wednesday, March 23, 2022, 2-4pm
Session 3: Wednesday, March 30, 2022, 2-4pm
Session 4: Wednesday, April 6, 2022, 2-4pm
Session 5: Wednesday, April 13, 2022, 2-4pm
Session 6: Wednesday, April 20, 2022, 2-4pm
Registration Link: TBD
Books 
(please consider supporting a Black-owned bookstore)
Me and White Supremacy by Layla Saad

How to Be an Anti-Racist by Ibram X. Kendi

Teaching to Transgress by Bell Hooks

Identity Consciousness Supervision by Robert Brown, Shruti Desi, and Craig Elliott (

available online through MSU Library

)

Just Mercy by Bryan Stevenson

The Other Wes Moore by Wes Moore

Eloquent Rage by Brittney Cooper

Killing the Black Body by Dorothy Roberts
Biased by Jennifer Eberhardt
Everday Bias by Howard Ross
Campus Uprisings by Ty-Ron M.O. Douglas, Kmt G. Shockley, Ivory Toldson
Blackhood Against the Police Power by Tyron P. Woods
The Source of Self-Regard by Toni Morrison
Making All Black Lives Matter by Barbara Ransby
The Fire Next Time by James Baldwin
Go Tell It On The Mountain by James Baldwin
Race Matters by Cornel West
Can We Talk About Race? By Beverly Daniel Tatum
White Fragility by Robin DiAngelo
Campus Counterspaces by Micere Keels
Stamped from the Beginning by 

Ibram X. Kendi

My Grandmother's Hands by Resmaa Menakem

Toxic Ivory Towers by Ruth Enid Zambrana
Microaggressions and Marginality by Derald Wing Sue
Critical Race Theory by Kimberle Crenshaw, Neil Gotanda, Gary Peller, Kendall Thomas
Breathe: A Letter to My Sons by Imani Perry
We Want to Do More Than Survive by Bettina Love
White Working Class by Joan Williams
We Cast A Shadow by Maurice Carlos Ruffin
Articles
 Podcasts
NPR's Code Switch

New York Time's 1619

Intersectionality Matters! Hosted by Kimberl

é

Crenshaw

Good Ancestor Podcast with Layla Saad
 Movies and Videos
Local Black-led Organizations to Follow
National Organizations to Follow
Hashtags to Follow
#blackintheivory

#sayhername