Jessica Stokes and Michael Stokes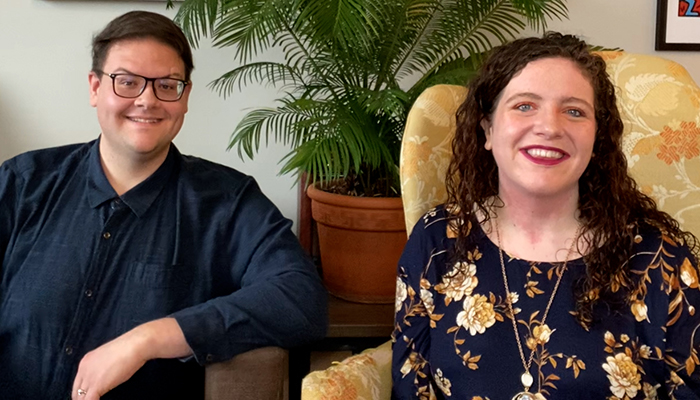 Two doctoral students in the Department of English, Jessica Stokes and Michael Stokes, are leading the way for disability research at MSU through their work with the HIVES Research Workshop and Speaker Series.
HIVES is a research workshop that provides a platform for students, scholars, and artists to engage in conversations about accessibility and diversity in the classroom and on campus. The organization operates across the MSU campus and the state of Michigan and has established partnerships with the West Michigan Environmental Action Council and DISart Grand Rapids. Through its workshops, HIVES has collaborated with well-known disability scholars from across the United States, such as the Legacies of the Enlightenment Project.
The HIVES workshops provide a unique opportunity for students to learn about topics related to accessible and antiracist pedagogy. In fall 2020, HIVES hosted Koritha Mitchell, author and associate professor at Ohio State University, to facilitate a workshop with graduate students to improve their online teaching. Throughout the workshop, HIVES highlighted the factor race plays in higher education and modeled accessible teaching strategies for participants, such as using captions on videos and including image descriptions within presentations.
Throughout its two years in existence, HIVES has collaborated with various MSU units, including the Broad Art Lab. In 2018, co-founder Jessica Stokes helped plan the Art Lab's "Everyday" accessible art exhibit, which offered multisensory art exhibits, seated yoga, and meditation sessions for visitors across the greater Lansing area. 
To extend the effort to make art accessible, HIVES also created the "Buzz-zine" publication, which amplifies the voices of queer, disabled, and trans scholars and artists at MSU and across the country. The zine is released digitally on the HIVES website, in a large print version, as a braille gloss version, and as a standard-size zine release.
For their commitment to creating learning opportunities for MSU students and expanding engagement with accessibility practices across campus, Jessica and Michael Stokes are awarded with the Excellence in Diversity "Teams: Emerging Process" award.