Dave Weatherspoon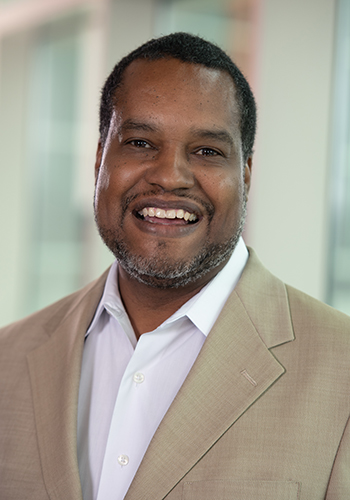 Dr. Dave Weatherspoon is a professor in the Department of Agricultural, Food and Resource Economics (AFRE) and an Associate Dean for Undergraduate Studies in the Office of the Associate Provost for Undergraduate Education (APUE). Weatherspoon's role as an associate dean in APUE is to develop policies and lead projects that leverage MSU's recruitment, admissions, and financial aid resources to decrease opportunity gaps and improve graduation outcomes for all MSU students; this mandate is a perfect fit for Weatherspoon, who commenced his role in promoting diversity as an undergraduate at MSU in the early 1980s.
His leadership has had transformational impacts on MSU, colleges of agriculture and natural resources across the nation, the entire land-grant system, higher education, and the agri-food industry.
Weatherspoon's work on diversity dates back to 1983 when, as a young agronomy undergraduate student at MSU, he realized that first-generation, minority, female, and under-represented students needed a supportive infrastructure for their advancements in the agricultural and natural resources fields. He attributed this to limited early exposure, role models, mentoring and internship opportunities, and the absence of a functioning network that supports minority students from junior high school, through college, to careers in related fields. He led other students in creating "Minorities in Agriculture and Natural Resources (MANRA)," an informal MSU group, which reached out to junior and senior high school students to inform them about opportunities in the field.
After Pennsylvania State University learned of Weatherspoon's student-led efforts as an undergraduate, they invited him, along with Dr. Eunace Foster and other collaborators, to coach students at PSU through opening their own MANRA chapter. That was the beginning of Minorities in Agriculture, Natural Resources and Related Sciences (MANRRS), an Atlanta, GA -headquartered national society that promotes and fosters minority involvement in agriculture, natural resources, and related sciences fields. For 35 years, the organization has been at the forefront of advancing the careers of minorities and expanding opportunities facing them. For decades, the USDA (including the Economic Research Service, Forest Service, Agricultural Research Service, APHIS, Natural Resource Conservation Service, Foreign Agriculture Service and Crop Reporting Service), sees MANRRS as the place to go to recruit professionals.
In addition to the excellent leadership that Weatherspoon brings in the area of diversity, he is an accomplished scholar, teacher and mentor. His research addresses a range of issues centering on improving our understanding of food supply chains and the effects of food retailing on consumer behavior and health status. He also studies the economic impacts of food deserts and the efficacy of retailer entry into urban poor environments. He has published his work in leading peer-reviewed journals in agricultural and applied economics, including one this year in the American Journal of Agricultural Economics (AJAE), the premier journal in his academic profession.
Three years ago, Weatherspoon's commitment to access, diversity, and student success led him into the Provost's Office, where he now serves as Associate Dean in the Office of the Associate Provost for Undergraduate Education. Weatherspoon has integrated his disciplinary expertise as an economist with his commitment to diversity by creating a leadership portfolio around the economics of diversity, equity, and inclusion. In this role, Weatherspoon works with two associate provosts, the university's budget officer, and university development to create innovative and sustainable new programs to support a diverse student body, and he is leading a revision of MSU's $38m/year Spartan Advantage Program to improve student success, persistence, and graduation of our neediest students. In these efforts, Weatherspoon has demonstrated the same persistent, values-based leadership that he has shown for the last four decades in service to diversity at MSU and elsewhere.
In recognition of his sustained leadership of MANRRS, Weatherspoon received the MANRRS Legend Award in 2010. In addition, in recognition of his many years of dedicated service to MSU towards the promotion of a diverse and inclusive college, he received CANR's 2019 Diversity, Equity and Inclusion Award.
For his stellar lifetime contributions to diversity in higher education, Dr. Dave Weatherspoon is awarded the Excellence in Diversity — Lifetime Achievement award.